von Dittersdorf's Ovid Symphonies as a music model for Mozart
The fact that Mozart probably considered himself an initiated alchemist (even though probably a rationalist alchemist, according to the teachings of his own lodge), in addition to his being a freemason, may explain Mozart's particular interest in von Dittersdorf's Ovid Symphonies cycle and then in certain peculiar symbology in The Magic Flute.
We find Mozart's quotations/borrowings from Dittersdorf's Ovid works (consider their original version with complete parts for trumpets and timpani and not the 19th century printed edition) in Mozart's works for piano and, in particular, in his operas Nozze di Figaro, Don Giovanni, Così fan tutte and in his Jupiter Symphony Final Movement.
von Dittersdorf, apparently, was not a freemason himself...
... However he worked for ca. 20 years as Kapellmeister and high official of that very person who was considered the real founder of the Vienna Freemasonry, the Count Philipp Gotthard von Schaffgotsch, then Prince-Bishop of Breslau.
The first Vienna lodge was the Aux trois canons (17 September 1742) and was directly derived from the Breslau lodge Aux trois squelettes: the Count von Schaffgotsch in person had sent the Counts Hoditz and Grossa from Breslau to Vienna to found there the very first lodge. Then the husband of Maria Theresa carried on the work initiated by Count von Schaffgotsch, then Prince-Bishop of Breslau and master and patron of von Dittersdorf (for a detailed reconstruction of the events, among others, see Attardi)..
In conclusion, von Schaffgotsch was not only de facto the father of all Vienna lodges but he was a Freemasonry close brother of the husband of Maria Theresa...
As revealed by the decorations of the French Castle of Cenevieres, the Ovid's Metamorphoses were always an important reference for all those interested in Alchemy. So it is probable that von Dittersdorf's cycle of the Ovid Symphonies had a particular meaning for his own master and patron, the Freemason Prince-Bishop von Schaffgotsch,... and also for Mozart (who was well known practically as Apollo within masonic circles: see von Born et alii), an active freemason and, probably, even (at least in part) a rationalist alchemist, according to the controlled rules of his eclectic lodge Zur neugekronten Hoffnung.
As a matter of fact, the Solomon's Seal used by Mozart in his own masonic signatures is usually alchemically interpreted (being a combination of the symbols of fire and water) as the symbol of transmutation, that's to say metamorphosis...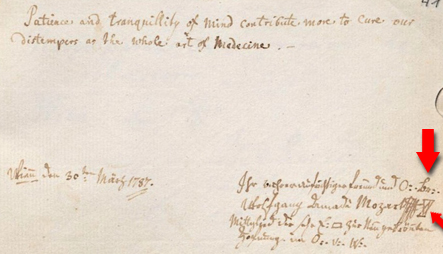 Three missing symphonies in piano 4-hands format
Three missing Ovid Symphonies by Dittersdorf became three 4-hands piano sonatas. The original orchestral score is still missing and also the other last 6 symphonies are still missing.
We have only 9 symphonies (6 orchestra+3 4-hands piano) out of the original 15 symphonies (written 1782-1786/87).
Mozart re-used various thematic material derived from von Dittersdorf's symphonies, in particular from the first 3 symphonies (which were also printed ca. 1785), which symbolically represented (1) the corruption of metals, starting from gold, (2) the sun and (3) the moon. Mozart seems to have used the method of similia similibus in choosing the passages from Dittersdorf's Ovid works.
The Symphonies about Hercule and Jason must have been particularly important (they are important also in other well known Alchemy cycles dedicated to Ovid) and probably that's why they were chosen for preservation through a version for piano 4-hands.
If the political disaster, which ruined Vienna Freemasonry in 1790s after the French Revolution, was also the motive behind the personal disaster of von Dittersdorf and of his family, due to the rage of von Schaffgotsch who saw his great Vienna masonic creation totally destroyed, is difficult to say, but it is a fact that the decline of Vienna Freemasonry under the attack of the Austrian Police marked also the decline of von Dittersdorf and of von Schaffgotsch.

IN MOZART REGNAT APOLLO
Vienna, 31 October 1789

Alchemy symbology and the Alchemic cycle of Ovid frescoes at the French Castle of Cenevieres (detail of the story of Sun and Phaethon = Dittersdorf's Ovid Symphony No. 2).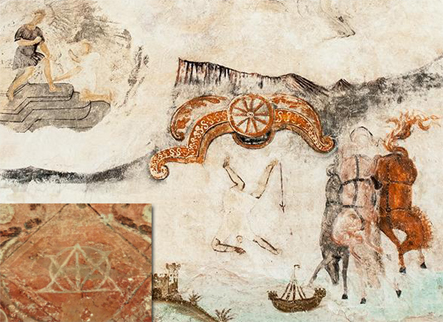 __________________