1. Who is Gian Francesco de Majo?

2. de Majo's works
Gian Francesco or Ciccio... de Majo: but what does Ciccia mean?
In 18th century and 19th century, G.F. de Majo was more usually known as(and called in ancient sources) Ciccio de Majo (see, for example, Mozart's own letters or Carpani 1812). Being one of the most favourite composers of Sturm und Drang writers, like Heinse, the famous friend of Klinger (1795/96), his name, in German texts, usually appears simply as Maio.
Ciccio was and still is a common frequently used Italian nickname for all those, whose name is Francesco. It is usually a sign of familiar affection. In the case of de Majo, it was due to the fact that he was a young prodigy (as musician and composer) and that he had a precocious long and successful career. He died young, when he was only 38, and for this reason too, many kept aclling him Ciccio, as a sign of affection.
The nickname Ciccio in Italian is used also, as a familiar affectionate nickname for all fat people, because Ciccio sounds as the masculine form of the noun Ciccia, a usually colloquial familiar term for Rich Meat or Fat, i.e. Ciccio means Fatty or similar.
As far as we know, in the case of de Majo, the nickname Ciccio was rather for Francesco, while, probably, Jommelli was a real Ciccio (Fatty) in the sense of Ciccia.

de Majo, Aria: Di rendermi la calma (from Alessandro, Mannheim 1765)


de Majo, the genial master of the melancholic and sensual style: from Sturm und Drang to Florimo
Despite his death at only 38, de Majo left a great impression on the other composers and artists of his Era.
Between 1778 and 1780, a series of scores seems to document a revived interest and study of his compositions. Interesting to notice that more or less in the same period also the scores by Sammartini were object of a revival.
The fame of the Neapolitan master, who had worked with the most famous Mannheim orchestra in the 1760s, was rather strong in the German cultural circles and was considered by composers/intellectuals (like Reichardt) the model of the new music with Gluck, Jommelli and Traetta (but also Leo and Pergolesi remained composers to be considered and to study).
In particular, the Sturm und Drang writer Heinse (a close friend of Klinger and great admirer of Klinger's play Sturm und Drang 1776), in his 1795/96 famous Sturm und Drang book (and Romanticism cultural model) Hildegard, even gives a position of great prominence to de Majo and to his music, by putting him before Gluck, Jommelli and Traetta for the true depth and drama of his emotional music compositions and the sweetness of his melody treatment.
Still in 1869 the famous musicologist and composer Francesco Florimo considered de Majo one of the most passionate composers of his Era (1750s/1760s) for the depth and melancholy of his Opera Seria and Sacred music:
[from Florimo's Cenno storico sulla scuola musicale di Napoli, Vol. I]
«Pochi compositori di quel tempo ebbero nell'opera seria tanta profondità e tanta malinconia come il De Majo. Quasi tutte le sue opere contengono pezzi ove spicca una gran forza drammatica, e l'Ipermnestra a preferenza è notevole sotto questo riguardo. Le due arie di quest'opera, Sono in mar non veggo sponde, e l'altra Per lei fra l'armi, non che quella del Montezuma, A morir mi condanna, saranno eterni modelli di sentimento e di verità.» [p. 344]
«Just few composers of that time showed, in the opera seria, so much profundity and so much melancholy as de Majo did. Almost all his operas feature pieces, where a great dramatic strength reigns superior, and, if you must make a choice, his Ipermestra is very remarkable, under this respect. The two arias from this opera, Sono in mar non veggo sponde, and the other one, Per lei fra l'armi, and that of his Montezuma, A morir mi condanna, will be eternal models of emotions and of truth.» [p. 344]

According to Florimo, also de Majo's Salve Regina in F is a true masterpiece of grace, simplicity, of authentic expression of devotion and magnificent craftsmanship (è un vero capolavoro di grazia, semplicità, devota espressione e stupenda fattura, p. 344).
Florimo so, in particular, considered de Majo's opera Ipermestra (1768) and Montezuma (1765) and his Salve Regina in F major, fundamental reference compositions, all rich in dramatic strength, depth, emotions, sentiments and truth, and, as such, these compositions have to be deemed as eternal models of great art in music at the highest levels.

Here parts of Heinse's Sturm und Drang book Hildegard (pp. 34, 85, 294-5, 302-3) on de Majo and also on Gluck, Jommelli and Traetta: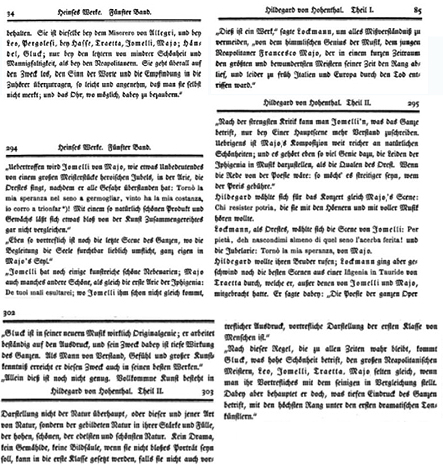 Carpani 1812: de Majo as the painter Giorgione, sophisticated beauty and symbolism
In his Grand Gallery of Composers (1812), Carpani (the famous biographer of J. Haydn) identified the art of de Majo with that of the Renaissance painter Giorgione.
Apart from the evident similarity in their lives (they both died young, but celebrated artists, in their 30s), the similitude is due also to the peculiar type of art developed by both de Majo and Giorgione: a sophisticated and sweet beauty, rich in symbolisms and allegories, that always carry the interpretation of their masterpieces on a peculiar polysemous level of dramatic pensive depth.
The symbolism of images, figures and colours is well represented in Giorgione's paintings... and those, who accurately read the scores by de Majo, soon discover those particular music figures, that use of the keys and the orchestration, which hide allegories and symbols of the true drama, that is unfolding in the music narration that de Majo is depicting.
Montezuma (1765) and Gesù sotto il Peso della Croce (1764) have many pages that can be considered exemplary of this highly refined art of de Majo.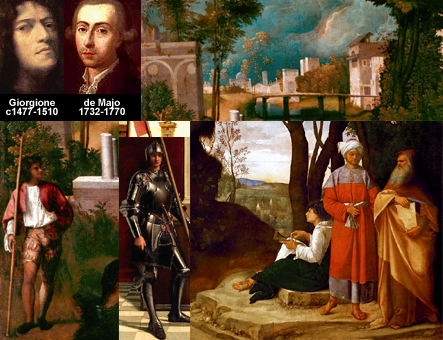 The accurate reading of works by Reichardt, Hiller, Heinse, Schubart, Vogler, Burney, Florimo and Carpani makes us understand that the peculiar sophisticated musical aesthetics of de Majo (like that of Jommelli, Traetta and Gluck) have been too easily treated by too many modern performers, who, with a certain carelessness and without any particular accuracy, even erroneously assimilated or put in comparison such composers with true Baroque music, that very kind of music these composers wanted to change and radically innovate (i.e. see Hiller on Jommelli and Handel).
As a matter of fact, these composers conceived their compositions like Renaissance/Elizabethan/Early Baroque paintings full of genius, spirit and fire (the famous art triad of Jommelli... and others: Burney, Goethe, Schiller, etc.) and any music figure, any key, any orchestral structure had the strength of a genial stroke of brush.
The great competition among these composers was really determined by the strong desire of seeing their music works compared to Caravaggio, to Tintoretto, to Guido Reni or to Rubens.
It is mandatory: this kind of music by these composers requires and demands a total interpretational immersion of the performer, who must give the truest life to the many symbolisms and subtleties of these scores. The opposite is not only a misinterpretation, but even a bad misrepresentation of this music and the aesthetics behind them...
... because all these composers were great masters of this peculiar art of music orfèvrerie, that they themselves in part even created and invented or greatly and magnificently developed.

de Majo's early years: padre Martini of Bologna, Giuseppe de Majo and Francesco Feo
de Majo, like Jommelli and Mozart, at some point of his career (1762), reached Bologna, in order to personally meet and study with the most famous Father of all the maestri, Padre Martini (see MozartCircle Impossible Interview October 2017)... and to receive his blessing.
de Majo was a precocious talent as a musician, and started his career when just a boy as assistant of his father, the musician and composer Giuseppe de Majo, and received so his very first position as organista soprannumerario without salary of the royal chapel in Naples. His first known written music compositions belong to 1749 and are two different versions of Qui sedes.
de Majo belonged to an entire family of notable musicians of Naples, with whom he studied music and composition from the very beginning: his father Giuseppe de Majo (1697-1777) was a famous organist and a distinguished composer of the first early generation of the Neapolitan school and a close friend of the highly celebrated Leonardo Leo (1694-1744). According to Burney, Giuseppe de Majo's sacred music was of an extraordinary beauty, Burney adored: unfortunately most of his sacred music production apparently is still to be considered lost and it's difficult to give any kind of judgement today. Nonetheless, the recent rediscovery of some lost concertos gives us the idea of a very brilliant composer that managed to build amazing virtuoso pages, that required a really demanding technique from the performer: see, for example, his 1726 Cello Concerto. As far as we know, Giuseppe de Majo already had a certain notoriety in the German world, since in the 1740s he befriended Hasse, while he was not, apparently, on particularly friendly terms with Jommelli and Costanzi.
One of the uncles of de Majo was Francesco Feo (1691-1761), who was a highly celebrated opera singers teacher and vocal coach (he founded his own school), sacred music composer and conductor. Padre Martini considered Francesco Feo one of the highest authorities in Italy on opera singing vocal preparation and writing and Hasse was a very close friend of Feo and expressly wanted only Feo as conductor for his works in Naples.
The composer Gennaro Manna (1715-1779) was another uncle of Gian Francesco de Majo. Manna was the pupil of both Feo and of the great Francesco Durante (and even his successor in a few music positions in Naples) and reached a certain notoriety for his operas in the 1740s/1750s: then abandoned the world of opera, in order to write sacred music only for the many official chapels of the city.

de Majo like Rossini: the first amazing opera success at 26 (Goldoni eye-witness)
In the following account left by a most famous eye-witness (the celebrated Italian playwright Goldoni), we can enjoy an amazingly vivid description of the great public triumph of de Majo's first full opera Ricimero re de' Goti (1758), when it was perfomed in Rome in 1759 for the first time.
Those who well know the famous similar episode of Rossini in Rome for his Il barbiere di Siviglia, will certainly find in this Goldonian narration a fundamental anticipation of that literally crazy enthusiasm of opera audience for those they recognized as great geniuses of their own art.
That's to say, that de Majo in 1759 in Rome received that same great astonishing tribute as absolute genius of opera as Rossini.
«The audience of the theatres in Rome is, without doubt, a terrifying entity, that must be seriously feared, and the abbots sentence in a definitive and really noisy and stormy way; there aren't policemen, there aren't theatre wardens of any kind, there isn't any possibility of having a good order: whistles, cries, laughter and insults highly re-sound in the theatre from everywhere. On the other hand, happy is that man that the collarini like! I was in the same identical theatre at the premiere of the opera by Ciccio de Majo. The applause was similarly so amazingly loud like a tempestuous storm. A part of the public even went out, at the close of the performance, to personally conduct the maestro de Majo home in great triumph, and the remainder of the audience well staid in the theatre, always crying as loud as possible and calling out, without intermission, Viva Majo! Viva Majo!, till every candle was literally burnt down to the socket.»
[from the old Italian version of Goldoni's autobiography, Mémoires 1787]



de Majo in Austria and Germany: Vienna, Mannheim and the Opera Reform
After a successful tour of the Italian major theatres in the 1760s, which saw his operas Cajo Fabricio (1760), L'Almeria (1761), Zenobia (1761, in collaboration with Traetta and others), Artaserse (1762) and Demofoonte (1763) all saluted with the greatest enthusiasm and admiration, in particular his Artaserse and Demofoonte, de Majo organized a long tour in Austria and in Germany that lasted ca. two years.
In fact, in 1764 he received a commission directly from the Emperor of Austria, that famous Joseph II that played a great role in the life of Mozart. de Majo wrote Alcide negli Orti Esperidi (9 June 1764) for the Vienna celebration of the coronation of Joseph II as Holy Roman Emperor. With letters of presentation by important Italian figures, like Farinelli (a friend of Padre Martini in Bologna), de Majo managed also to make the acquaintance of Metastasio in person. Nonetheless, already a genial reformer and innovator (his 1762 Artaserse was considered particularly impressive, like his Oratorio Gesù sotto il peso della croce, 1764) de Majo gave a new substantial strength and structure to his operas, under the influence of Gluck's own opera reform (the real game of influences among Gluck, Jommelli, Traetta and de Majo is still much disputed and debated: who really did it first?).
A particularly important production of 1764 was de Majo's Ifigenia in Tauride (5 November 1764), still today considered a fundamental work in the history of music, despite the bad and below average modern recordings unfortunately available of this opera. Determined to create a much more impressive and expressive new type of opera after Gluck's Orfeo (1762) and Traetta's Ifigenia (1763), de Majo gave an entirely new structure to his work, especially for the emotionally strong Sturm und Drang beginning with scenes of storm, shipwreck and battles, in a formal design which already looks to the future innovations of the Romantic opera theatre. Even Gluck in 1779 will cite de Majo's 1764 opera for his own Ifigenia in Tauride (McClymonds). Moreover, this opera marked the beginning of a fruitful collaboration of de Majo with the Mannheim court and orchestra.
From 1764 to 1767 de Majo, mainly based in Vienna, wrote a series of masterpieces, like his Montezuma (Torino, 1765) and his Alessandro nelle Indie (again Mannheim, 1765).

de Majo: the last years 1767-1770
In May 1766, de Majo was back in Naples, to carry on his intense official activity at the Royal Chapel. Nonetheless, with the permission of the court he could keep writing new operas (another six) and organizing their performance in the various Italian theatres, especially Rome and Venice.
In 1768 de Majo presented his Ipermestra, by many considered his own masterwork as opera: dramatic, sad, melancholic and rich in depth. Still in 1869 the famous musicologist and composer Florimo considered his one of his best works ever, with his Montezuma. Unfortunately, both the operas are today represented only by below average/quality recordings, that do not give any idea of the most beautiful original scores.

Here down some scores by de Majo: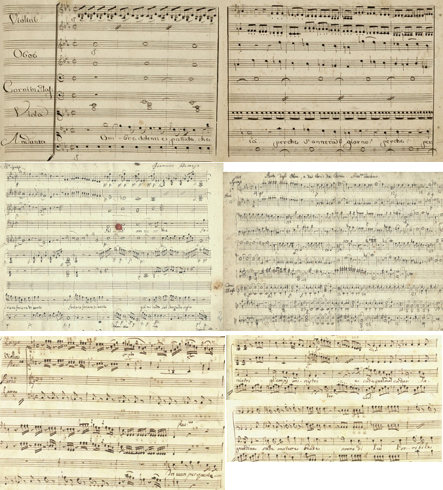 Naples 1770: Mozart meets de Majo
It is well known how Mozart personally met de Majo in Naples in 1770 and how he managed to listen to some of his music and how Mozart remained entirely fascinated by the amazing beauty of de Majo's music: musica bellissima (in Italian in the original letter), the most beautiful music.
Here down you can read the two 1770 famous letters by Mozart on de Majo.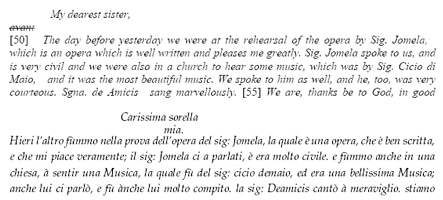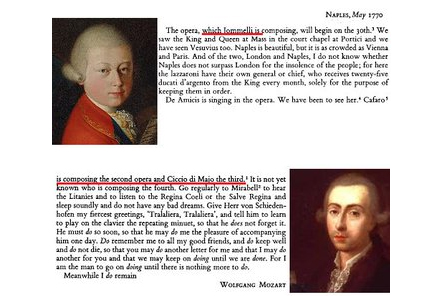 Mannheim 1778: Mozart, Raaf, de Majo and Idomeneo
In 1778, Mozart, who was in Mannheim, started working with the famous celebrated Opera singer Raaf.
Raaf had worked for various years and in great important productions with de Majo himself, creating thus a few roles for the premieres of de Majo's operas. Since the influence of de Majo's music on Mozart is evident (see Abert, for example), it is generally believed that from 1778 to 1780s, Mozart had many occasions to study the original scores by de Majo, thanks to his friendship and long collaboration with Raaf, who was going to become the first Idomeneo for Mozart (see, for example, Meloncelli).

The death of de Majo
de Majo died on 17 November 1770, just a few months after having met the young Mozart in Naples. He was writing a new opera, that remained unfinished: Eumene.
He managed to complete the Act I, before dying. The Act II and III were written by his colleagues Insanguine and Errichelli for the premiere of 20 January 1771 at Teatro San Carlo.
Due to lack of accurate researches, the exact date of the death of de Majo went lost for many years and in the 19th century there was some uncertainty about the facts of his death. The researches of Florimo in the 1860s led, for the first time, to a more accurate reconstruction of the biography of de Majo, researches that were afterwards further refined during the 20th century.
The death of de Majo was caused by a serious form of tuberculosis he had contracted in 1760. A first period of a few months of obliged rest spent in Torre del Greco in the same year 1760 had just a bit mitigated the strength of the disease and gave de Majo the possibility of carrying on a successful opera career in the major theatres of Italy and Europe, in particular those of Rome, Naples, Madrid, Vienna, Venezia, Torino and Mannheim.

de Majo: unfortunately still a meagre discography available, anachronistic reviews and which orchestra to be used
Here down we present the small discography now available for this composer, with the warning that most of this discography is even really old or frankly of very poor quality, so that such recordings usually have little or nothing to do with the original scores by de Majo.
Moreover, anachronistic reviews by Music Journals and Magazines did not help in the revival of this beautiful composer, so much admired and appreciated even by the 19th century Romantic composers, for the sad tone of his dramas, the melancholy, the allegory and the depth of his music.
It is a fact that we can call it anachronism, when the reviewer accuses (why? are you sure?) de Majo of «just using the Neapolitan style», that very style that de Majo, Jommelli and Traetta invented or refined and developed to new forms; and then the reviewer goes on on bizarre comparisons with other old Baroque style composers, whose style was the actual object of dispute and innovation by composers such as de Majo, Jommelli and Traetta (see Hiller's famous 1787 analysis of Jommelli's 1763 Te Deum, as the model of a new music style in open contrast with the Old Baroque style). Classical Music Journals and Magazines should be more accurate in the choice of their reviewers and in their better preparation in the history of music... otherwise you end up in dangerous anachronistic statements!
Another point on the bad modern performance of the music by de Majo, Jommelli and Traetta is the ubiquituous and noisy presence of the harpsichord in any kind of modern orchestra performance of their works, with the effect of literally overwhelming the real music with a loud flat dominating harpsichord sound.
It is a fact that these three composers:
1- usually wrote music for the opera theatres, which had large orchestras, where the harpsichord usually formed the cello section with 2 other cellos against a contrabass section of even 6 contrabasses;
2- did not usually write their main operas for the small court orchestras, where really the harpsichord or keyboard had some role;
3- they wrote music for Mannheim, where famously the orchestra started a practice that led to abandon the use of the keyboard/harpsichord with the orchestra: see the example of the Paris Concert Spirituel, that used to act in close relationship with the Mannheim Orchestra;
4- as Bertil H. van Boer well synthetized, the use of the harpsichord and its sound was not dominating in the 1750s/1760s/1770s orchestras, but just acted as harmonic filling, when needed or the orchestra was not sufficiently large or could not have all the instruments;
5- Vogler's own contemporary statement about the use of the keyboard/harpsichord in the 1750s/1780s orchestras is extremely clear: first of all the sound of the harpsichord was not particularly dominating even with small orchestras, because, as soon as the orchestra was bigger, the harpsichord was so weak that it could not be heard and was totally useless; as a consequence, many orchestras ended up avoiding it, like the Paris Concert Spirituel, the Mannheim and the Stockholm, or just used it to create the cellos section (that's to say, 2 cellos+harpsichord+6contrabasses or 8 cellos+no harspichord+5 contrabasses);
6- according to Leopold Mozart (autumn 1770), the very soul of the art of the orchestral opera writing is the chiaro scuro technique, that's to say the ability of creating great and subtle contrasts in the orchestral dynamics and nuances: if the harpsichord were a dominating element in the orchestra, you just do not have any kind of chiaro scuro (lights and shadows) technique, but a uniform flat monodimension without any dynamic and any nuance;
7- the scores of composers like Jommelli, de Majo, Traetta, Vogler and others are full of written highly contrasting orchestral dynamics since the beginning of the 1750s (according to Reichardt/Spitzer/Zaslaw from 1747/1753 on, with Jommelli's Rome works and then his 1753 Attilio Regolo), dynamics/nuances that, if rendered with a dominating ubiquitous harpsichord, will be simply destroyed, giving so an unfaithful and misleading rendering of the original intended score.

While we leave our readers, meditating on these 7 points from original documents and accounts written in the 1750s/1760s/1770s, we give here the figures about the main European orchestras strings sections, as after the original 18th centuries documents.

[According to Zaslaw, the keyboard was not in use at Paris Concert Spirituel in 1778 any more. According to Vogler, in 1780s the cembalo did not exist in the Stockholm Orchestra any more, because when a full orchestra was used, the sound of the harpsichord was too weak to be heard and so useless.]






de Majo's discography
Here we give a discography for de Majo: the first 3 recordings are all of some value in the comprehension of the music by this composer, also the 4th recording can be interesting and may help in a first approach to the composer, even though certain choices are questionable.
The remainder of the recordings are frankly, in various ways, very old or below the average in quality and characterized by strange interpretation choices (if compared with the original scores), with Montezuma just a bit better than the other 2.


De Majo: Alessandro nelle Indie
De Majo: Organ Music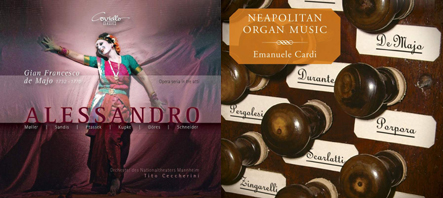 De Majo: Sonatas for Mandolin and Guitar
De Majo: Gesù sotto il Peso della Croce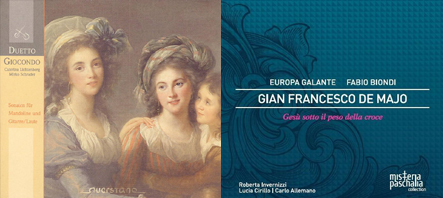 De Majo: Montezuma
De Majo: Ifigenia In Tauride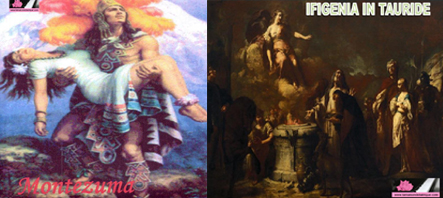 De Majo: Ipermestra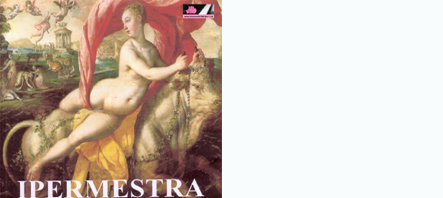 __________________________________________________
WORKS BY GIAN FRANCESCO DE MAJO
__________________________________________________

Various works by Gian Francesco de Majo are available at IMSLP:
Gian Francesco De Majo: Scores

A) Compositions by Gian Francesco de Majo:

• Operas:
• Intermezzo (1752)
• Ricimero re de' Goti (1758)
• Cajo Fabricio (1760)
• L'Almeria (1761)
• Artaserse (1762)
• Catone in Utica (1762)
• Demofoonte (1763)
• Alcide negli Orti Esperidi (1764)
• Ifigenia in Tauride (1764)
• Montezuma (1765)
• La costanza fortunata (1765)
• Alessandro nelle Indie (1765)
• Antigono (1767)
• Antigona (1768)
• Ipermestra (1768)
• Adriano in Siria (1769)
• Didone abbandonata (1769)
• Eumene (Act I only, 1771; Act II by Insanguine, Act III by Errichelli)

• Operas (uncertain attribution):
• Ifigenia in Aulide (1762)
• Ulisse (1769)
• L'eroe cinese (1770)
• Ezio (1769; according to Manferrari only)

• Arias used in Pasticci Operas (with music by other composers):
• Ezio (?; with other music by J.C. Bach, D. Pescetti, M. Vento)
• Solimano (1765; with music by Vento, Pescetti, Pergolesi, Perez)
• The Golden Pippin, English Burlette (1773)

• Cantatas:
• Astrea placata (1760)
• Prologo (1760)
• Cantata per il giorno natalizio di re Carlo III (1764)
• Il Dusare (1768)
• La gara delle Grazie Eufrosine, Aglaia e Talia "da rappresentarsi nel teatro di Torremaggiore in occasione del battesimo dell'Ecc.ma Sig.a D. Rosalia di Sangro" (?)

• Oratorios:
• Gesù sotto il peso della croce (1764)
• La fuga in Egitto (post. Bologna 1778)
• Ester (post. Bologna 1778)
• Il prodigio della grazia (?)
• La passione di Gesù Cristo (post. Bologna 1780)
• Per la morte di Gionata e di Saulle (post. Bologna 1780)

• Arias for voice and various instruments
(Collection of Conservatorio di S. Pietro a Majella, Napoli: 1761-1768):
• Goda con me
• Deh perché tanto
• Quel caro amato oggetto
• Da quel sembiante
• Se pietà da te non trovo
• Pensa costante e vedi
• Così la villanella
• Vedi l'amata figlia
• Cara deh resta in pace
• Se fra gl'argini
• La sorte mia spietata
• Ah scellerato
• Ombre dolenti e pallide

• Sacred Music:
• 3 Masses
• 1 Mass in C Major
• Fremit procella (1755)
• Cantilenae e cantico canticorum desumptae
• Dixit Dominus and Conquassabit a 4
• Dixit Dominus a 5
• Domine ad adiuvandum (1761)
• Exultet Orbis
• Graduale e Sequenza per la Pentecoste
• Kyrie e Gloria in D Major
• Qui sedes
• Salve Redemptor
• Tantum Ergo (1752)
• Tantum Ergo (1763)
• Turbidum
• Dixit in F Major (1760; S. Pietro a Majella, Napoli)
• Dixit in C Major (S. Pietro a Majella, Napoli)
• Dixit in D Major (S. Pietro a Majella, Napoli)
• Kyrie e Gloria in G Major (1769; S. Pietro a Majella, Napoli)
• Kyrie e Gloria in G Major (S. Pietro a Majella, Napoli)
• Mass in G Minor (S. Pietro a Majella, Napoli)
• Mass in C Major (S. Pietro a Majella, Napoli)
• Mottetto Grata voce (S. Pietro a Majella, Napoli)
• Mottetto Grate palme (S. Pietro a Majella, Napoli)
• Mottetto Perfida bella tonant (S. Pietro a Majella, Napoli)
• Mottetto Dum fremit unda insana (S. Pietro a Majella, Napoli)
• Mottetto Maris unda conturbatae (S. Pietro a Majella, Napoli)
• Salve Regina in F Major (S. Pietro a Majella, Napoli; considered a masterpiece by Francesco Florimo, 1869)
• Salve Regina in D Major (S. Pietro a Majella, Napoli)
• Salve Regina in E flat Major (S. Pietro a Majella, Napoli)
• Domine ad adiuvandum (1761; Biblioteca Oratoriana dei Gerolamini, Napoli)
• Lamentazione I del mercredì santo (B.O. dei Gerolamini, Napoli)
• Lamentazione II del giovedì santo (B.O. dei Gerolamini, Napoli)
• Lamentazione III del giovedì santo (B.O. dei Gerolamini, Napoli)
• Lectio II in primo notturno. Mercoledì santo (B.O. dei Gerolamini, Napoli)
• Lectio III. Mercordì santo. Feria V in Coena Domini (B.O. dei Gerolamini, Napoli)
• Lamentazione III del mercoledì santo (B.O. dei Gerolamini, Napoli)
• Omni fraudata spe mundi (B.O. dei Gerolamini, Napoli)
• Inter lacrymae ploro (B.O. dei Gerolamini, Napoli)

• Works for various instruments:
• Sonatas for Keyboard