1. Who is Otto Heinrich von Gemmingen?

2. von Gemmingen's works
Mozart's 1778 Mannheim-Paris Tour (240th Anniversary 1778-2018) is usually considered a whole disaster. Mozart didn't manage to find a solid job position anywhere, he is surrounded by people he (at least, at the beginning) considers his friends (but Leopold dislikes and distrusts them, in particular Wendling and Cannabich, and this for years), he doesn't manage to find a wife. However, during the period from autumn 1777 to winter 1779 and during his stay in Mannheim, Mozart makes a few important acquaintances, which will have a great impact on his life and on his long-lasting fortune.

A. von Gemmingen and Freemasonry (1778)
In 1777 Mozart meets Otto Heinrich von Gemmingen, the man who probably will be highly influential in developing Mozart's great taste for theatre drama and who probably actually did invite Mozart to join the Freemasonry in Vienna and backed Mozart's career as freemason.

B. Constanze Weber and Mozart (1778)
In January 1778, in Mannheim, Mozart meets for the first time and befriends the family Weber, falling in love with opera singer Aloysia Weber. In December 1778 in Munich, according to Constanze Weber herself and Nissen, Mozart receives signs of possible sentimental overtures from the young Constanze (sister of Aloysia) for the first time: Constanze, sad for the bad end of love story between Mozart and Aloysia, reached Mozart and told him that she might have been interested in him (instead of her sister Aloysia). Constanze, the Mannheim girl, who will become his wife in Vienna in August 1782, and who then will create a long-lasting and successful popular devotion to his dead husband, after December 1791.

If Mozart left his masterpiece The Magic Flute to posterity in 1791 is also, in part, thanks to his long friendship with the freemason Grand Master of Vienna Masonic Lodges von Gemmingen, an important minor German writer, linked to the circle of the great Klopstock, and an avid promoter of great theatre (Rousseau, Shakespeare and others) and of opera theatre in German language.
Most of the information on von Gemmingen's life are from Mozart's own letters, from the book C. Flaischleu, Otto Heinrich von Gemmingen, Stuttgart 1890 and from the recent studies of Mozart scholars.

Mozart meets von Gemmingen in Mannheim
When Mozart met von Gemmingen in Mannheim for the first time in autumn 1777, von Gemmingen, already linked to the great Klopstock (who had just visited Mannheim and left an important cultural legacy), held a few notable government posts in Mannheim (chamberlain, Hofkammerrath, etc.) for the court of Prince-Elector, Charles Theodore. During the months spent by Mozart in Mannheim (October 1777-March 1778), it seems that von Gemmingen (who was already very interested in the theatre of Shakespeare and Rousseau) and Mozart intentionally attended, together, opera rehearsals, court concerts and cultural circles soirées, discussing on the future of the development of opera in German language, an important cultural subject on those days in the German Nations and in Austria.
According to Mozart's letter from Paris (24 March 1778), their friendship was finally sealed and cemented a few days before Mozart's leaving Mannheim for Paris: «von Gemmingen assured me of his friendship and asked me for mine». von Gemmingen gave Mozart also 3 louis d'or «to cover the expenses of copying» music, since Mozart had sent him, as a present, the copies of a few works by him:
1. the string quartet K80 (1770-1774);
2. the quintet K174 (1773);
3. variations on a theme by Fischer K179 (1774).

von Gemmingen as patron of Mozart: Paris 1778
The violent controversy on the real nature of the friendship of people such as Wendling, Grimm, Noverre and Cannabich to Mozart is more or less well known. Despite the general belief, in his letters, Mozart has many doubts about Wendling, about Ramm and also about Cannabich (see, in particular, the letter from Paris 24 March 1778; Leopold totally dislikes all Mozart's friends in Mannheim and the dispute between Leopold and Mozart on Mozart's Mannheim friends will go on for many years after 1778).
Grimm will brutally mistreat both Mozart and his mother, when in Paris, with many lies, many unpaid music works and false promises of job positions. In the end, Grimm and Noverre (that famous Noverre, who, Leopold thought, had to help Mozart, because they were both Knights of the Golden Spur, like Gluck and von Dittersdorf) will fool Mozart with two fake opera commissions for Paris Theatre and that for ca. 6 months.
In this Paris context, von Gemmingen appears as a patron of Mozart. In Mannheim he gives Mozart a letter of recommendation for the Minister of the Palatinate in Paris, von Sickingen. The fact that, after the Paris disaster, von Gemmingen will keep supporting Mozart and his musical activity, is a true sign of the solid sincerity of their friendship.
While Mozart is in Paris, von Gemmingen takes care also of Aloysia Weber, the opera singer pupil of Mozart and love interest of Mozart at this time. We know, in fact, that von Gemmingen organizes concerts at his home in Mannheim, to present Aloysia and her abilities in singing to the aristocratic audience.
As far as we know, von Sickingen is one of those few people who treated Mozart really friendly and decently, during his Paris stay.

von Gemmingen and Mozart in Paris 1778: Freemasonry, Austria and Catholic Church
There's a dispute among scholars about the real nature of the relationship of von Gemmingen and Mozart in 1778, because von Gemmingen (like many other men of culture and musicians in Mannheim) was an active freemason. Charles Theodore, the Prince Elector of Mannheim (who had to choose Mozart as his own possible employee in 1778-1779), was (probably) a hidden freemason himself, secretly supporting the activity of the other Mannheim freemasons, without disturbing the Catholic Church too much in this way, since the Catholic Church was (officially,... but not unofficially!) against Freemasonry.
The fact that Mozart came from Salzburg and actually directly lived under a Catholic Bishop may have been a serious obstacle to obtain a good job position in Mannheim... and Mozart (moreover an open supporter of the Austria Emperor against the Prussia King) probably did not completely realize in which type of extremely delicate situation he was moving his first steps for a new job away from Salzburg...
Hence there have been various informed speculations about the possibility that von Gemmingen (through his friendship) asked Mozart to personally contact various members of Paris Freemasonry on his behalf (in particular those attached to Les Neuf Soeurs and to Freemasonry controlled institutions like Concert Spirituel and Concerts des Amateurs). However, on this point in particular, no speculation, at this moment, seems to be really supported by any kind of solid documentation.

von Gemmingen as author for Mozart: the lost Semiramis 1779
In autumn-winter 1778-1779 von Gemmingen will be again in direct contact with Mozart in Mannheim, after Mozart's leaving Paris.
Mozart (who had received an advice by von Heufeld from Vienna in January 1778 about writing new operas free of charge and only at Mozart's own expenses, just to gain visibility before Vienna Imperial Court) will easily accept a proposal of writing some music for a work written by von Gemmingen.
Even though von Gemmingen was already an important member of the cultural establishment of Mannheim as German writer and poet, in autumn 1778 he was not considered a successful author yet. Probably von Gemmingen's interest in producing a declaimed opera in music (it is exactly a duodrama) in collaboration with Mozart was due also to von Gemmingen's interest in obtaining that stage success he was seeking for some time.
The duodrama had the title Semiramis (K. 315e = Anh. 11).
According to a letter by Mozart December 1778 from Mannheim, Mozart was already writing music for this drama by von Gemmingen and accepted the work, even though it was going to be another unpaid work («for nothing»). Mozart writes to his father that he will bring this work with him to Salzburg and that he will complete it there in 1779.
According to a few original sources (but not very clear and a bit controversial) of the 18th century this duodrama Semiramis was actually completed by Mozart in 1779.
It is a fact that the music from this work went lost and is still lost today, like many various works written in Paris in 1778. It seems (but it is not sure at all) that, after 1791, Constanze Mozart and Abbé Stadler did actually find the autograph score: however, this score may have been also Zaide...
In conclusion, there are many hypotheses that, if Mozart really wrote some music and/or if Mozart really completed the work, probably he re-used parts of music from this Semiramis to entirely re-write and re-work his Thamos, König in Aegypten or Zaide.
In the end, von Gemmingen will become famous in 1780 with his successful drama Der deutsche Hausvater.

The world of scholars' speculation:
von Gemmingen & Mozart & the Vienna Freemasonry
It may be a pure coincidence, but, when von Gemmingen (already linked to Vienna Freemasonry lodges since 1779 and a member of the Illuminati, like his friend van Swieten, the future patron of Mozart) definitively reached Vienna in 1782, Mozart had just left Salzburg to reach Vienna (1781, after Idomeneo in Munich), where he was going to contact van Swieten himself, a close friend of von Gemmingen. Consider, at this point, that van Swieten (under suspicion for his Freemasonry Illuminati activities) will be removed from his Imperial Court positions on 5 December 1791, the very day of the death of Mozart (see Attardi).
In Vienna, von Gemmingen became Grand Master of the Masonic Lodge Zur Wohltätigkeit (Beneficence). Then (another coincidence?) Mozart, a long time friend of von Gemmingen, joined the Masonic Lodge of von Gemmingen (December 1784)... and it is generally thought that von Gemmingen encouraged Mozart to enter the mysterious paths of Vienna Freemasonry.
Even though we have a good series of original Vienna Freemasonry documents, that give sufficient evidence about Mozart as Freemason and about his activities within the Vienna lodges, there are still many obscure passages in the career of Mozart as freemason in Vienna. This is the reason why, on freemasonry matters, unfortunately there is still a good amount of informed speculation by scholars...
... And this is due also to the fact that most of the original documents of Vienna Freemasonry went lost or were already a well guarded unwritten secret in 1770s-1790s...
But let's try to collect all possible sufficiently documented facts.

1. von Gemmingen, Illuminati, Rosicrucians & Asiatic Brethren: Mozart & the Vienna lodges
Like many freemasons of his time, von Gemmingen belonged, at the same time, to various different well known or secret Freemasonry factions, in particular, the Bavarian Illuminati, the Rosicrucians and the Vienna group of the Rosicrucians, the Asiatic Brethren.
This position helped von Gemmingen (who was strictly in contact with the Imperial Court of Vienna, also through van Swieten, and then worked for it), to maintain a certain position within the Vienna Freemasonry movement also when the Emperor decided to reform the Vienna lodges (11 December 1785).
It is highly probable, at this point, that Mozart (close friend of von Gemmingen and van Swieten) was a freemason and, in particular, a member of the Asiatic Brethren (see also infra), as Irmen and other scholars suggested.
To understand the Freemasonry interests of Mozart from 1784 to 1791, we must consider the specialization of the single lodges he belonged to.

1784-1785. von Gemmingen's own Lodge Zur Wohltätigkeit (Beneficence) must have had a peculiar interest in social charity, in order to support the poor. Beside this, von Gemmingen, as a member of both the Illuminati and the Asiatic Brethren, promoted alchemy as a science, theology, cosmogony, qabbalah and numerology and probably was somehow involved in the delicate political matter of the acquisition of Bavaria (1777-1790) by the Austria Emperor Jospeh II. This Lodge had a particular good reputation in Vienna, because in 1784 it really managed to raise a great amount of relief funds to help the victims of the spring's flood.

1786-1791. After the 1784 Bavarian scandal of the Illuminati, who were disbanded by the Prince Elector Charles Theodore, and Joseph II's 1785 Freemasonry Act, von Gemmingen's Lodge was closed, like many others, and Mozart joined the lodge Zur neugekronten Hoffnung. This lodge was a Stretta Osservanza Zinnendorf Swedish eclectic and syncretist lodge (and this may explain the interest of the composer Kraus in Vienna Freemasonry). It gathered freemasons of different origin and many of them refused the strict masonic spiritualism Schwärmerei for a bit more rationalist approach, that accepted alchemy, supernaturalism and esotericism under certain conditions controlled by rationalism.

After 1786, von Gemmingen seems to act more behind the scenes (probably due to his delicate political position about Bavaria and the Illuminati and also due to his political writings, many also against the Catholic Church, not always well received by Austrian police), while another friend of Mozart, von Gebler, the author of the text of Thamos, König in Aegypten (1773-1776; then reworked and completed in ca. 1779), in the end, acquired a prominent position of leadership within Mozart's masonic lodge. In 1787 von Gemmingen rapidly and definitevely left Vienna, officially to take care of his family's properties. He will be back in Vienna again only in 1799.

2. von Gemmingen and Mozart: the Austrian Police surveillance
Just few know that actually in 1778 Austria politics on Bavaria de facto ruined Mozart's job position in Mannheim (as Mozart often left written in his letters), since Bavaria went to the Mannheim Prince-Elector Charles Theodore and Emperor Joseph II wanted Bavaria for himself from Mannheim Prince-Elector. Mozart, with good connections in Vienna and supporter of the Austria Emperor against the King of Prussia, was seen as another kind Austrian, i.e. a dangerous person at the wrong place in the wrong moment, and was considered a threat to Charles Theodore's court. The 1778 Prussia-Austria War ended with some but scarce results for the Vienna Emperor and Mozart was sent back to Salzburg without new job at a new court.
In 1784 and 1785 the old controversy on the Austrian acquisition of Bavaria was again a political target for Joseph II and, in the end, the freemasonry groups like the Illuminati were considered, at some point, Austrian spies working at the Court of the Prince Elector Charles Theodore, in order to obtain Bavaria and give it to Joseph II: this is the Komplott. Therefore Charles Theodore decided to ban all secret societies and to create a very clear distinction between good freemasons and bad freemasons, i.e. the Illuminati conspirators.
As Daniel Heartz pointed out, Joseph II for some reasons of political order and political convenience (most probably caused by the failure of his plans on Bavaria and by various reports by his own Police: see Attardi) decided to radically re-organize Freemasonry in Vienna through his famous Freemasonry Act (11 December 1785), in order to get a major control on the activities of the freemasons and of their factions.
Even though, as Da Ponte already writes in his memoirs, Austria Secret Police was already very active under Maria Theresa, according to Wangermann the 1785 Vienna Freemasonry Act de facto heavily augmented, so to speak, the authority of the Secret Police of Count Johann Pergen and all the activities of Vienna freemasons became motive of serious suspicion and police surveillance.
At this point, von Gemmingen, after 1786, rapidly became a person of interest for the Austrian Secret Police and unfortunately it is probable that also Mozart ended up entrapped in the same surveillance network and went under scrutiny. It is a fact that, according to the Novellos, still at the beginning of the 19th century Constanze Mozart had a series of forbidden books of the Secret Societies and of the Revolutionaries, forbidden books which belonged to Mozart and which were kept hidden during the famous 1791 post-mortem inventory.
It is well known how even The Magic Flute became a political subversive opera in the hands of the Austrian Police.

3. The rapid career of Mozart and of Leopold Mozart in Vienna Freemasonry
The strange rapid career of Mozart and of Leopold Mozart within Vienna Freemasonry still remains without a solid explanation.
They both reached the highest degrees of Freemasonry in few months or even few weeks between December 1784 and May 1785, while the usual paths required at least one year from a degree to another.
A possible solution to the mystery is that Mozart and Leopold already belonged to some lodge in Salzburg, but probably secretly. As a matter of fact, it's very strange that Leopold wanted his son to write music on a very famous masonic text already in 1767! According to Koch, Thomson and Knepler, Leopold and Mozart both already belonged to the Salzburg eclectic masonic lodge Zur Fürsicht. Unfortunately it seems that the Salzburg documents that clearly demonstrated that affiliation of the family Mozart went lost some time after 1911.
As Daniel Heartz correctly pointed out, it is a fact that Leopold and Mozart, since the first Europe Tour in 1760s-1770s, were always surrounded by famous activists of Freemasonry... even though Leopold did not seem (apparently!) particularly involved in Freemasonry.

4. The Kronauer Stammbuch and Mozart as Arch-Englishman
A very interesting document of the complex network of friendships built by Mozart thanks to the Vienna system of lodges is The Kronauer Stammbuch.

«Patience and tranquillity of mind contribute more to cure our distempers as the whole art of Medicine.
Vienna, 30 March 1787
Your true sincere friend and brother Wolfgang Amadè Mozart
Member of the very hon. lodge of the New-crowned Hope in the Orient of Vienna.»




Near the word Mozart, you can see two intersected triangles. Various scholars consider that Alchemy symbol (a Solomon's Seal, representing, at a first simple analysis, the elements of water and fire, i.e. the Finale of The Magic Flute) used by Mozart as secret indication that he belonged to the group of the Asiatic Brethren. However, one must consider, instead, that usually those people who used that kind of signature were people who considered themselves as initiated to the Art of Alchemy... and probably the part about the Art of Medicine was not that casual.
The fact that Mozart was writing in English is interesting. In fact on 19 October 1782 Mozart was already writing about himself that he was an Arch-Englishman!

In the same Stammbuch we find also the messages by Otto von Gemmingen and by the composer Kraus, a friend of Haydn, Mozart and Beethoven.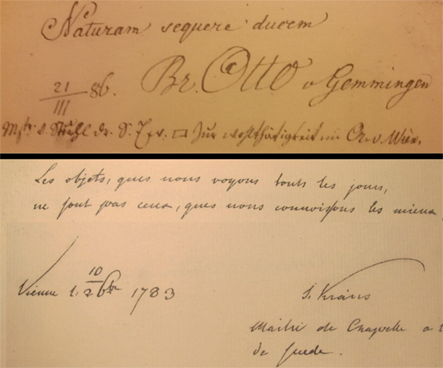 5. Mozart Alchemist, Dittersdorf high official of the founder of the Vienna Freemasonry & the Alchemy secrets
The fact that Mozart probably considered himself an initiated alchemist (even though probably a rationalist alchemist, according to the teachings of his own lodge), in addition to his being a freemason, may explain Mozart's particular interest in von Dittersdorf's Ovid Symphonies cycle and then in certain peculiar symbology in The Magic Flute.
We find Mozart's quotations/borrowings from Dittersdorf's Ovid works (consider their original version with complete parts for trumpets and timpani and not the 19th century printed edition) in Mozart's works for piano and, in particular, in his operas Nozze di Figaro, Don Giovanni, Così fan tutte and in his Jupiter Symphony Final Movement.
von Dittersdorf, apparently, was not a freemason himself...
... However he worked for ca. 20 years as Kapellmeister and high official of that very person who was considered the real founder of the Vienna Freemasonry, the Count Philipp Gotthard von Schaffgotsch, then Prince-Bishop of Breslau.
The first Vienna lodge was the Aux trois canons (17 September 1742) and was directly derived from the Breslau lodge Aux trois squelettes: the Count von Schaffgotsch in person had sent the Counts Hoditz and Grossa from Breslau to Vienna to found there the very first lodge. Then the husband of Maria Theresa carried on the work initiated by Count von Schaffgotsch, then Prince-Bishop of Breslau and master and patron of von Dittersdorf (for a detailed reconstruction of the events, among others, see Attardi).
In conclusion, von Schaffgotsch was not only de facto the father of all Vienna lodges but he was a Freemasonry close brother of the husband of Maria Theresa...
As revealed by the decorations of the French Castle of Cenevieres, the Ovid's Metamorphoses were always an important reference for all those interested in Alchemy. So it is probable that von Dittersdorf's cycle of the Ovid Symphonies had a particular meaning for his own master and patron, the Freemason Prince-Bishop von Schaffgotsch,... and also for Mozart (who was well known practically as Apollo within masonic circles: see von Born et alii), an active freemason and, probably, even (at least in part) a rationalist alchemist, according to the controlled rules of his eclectic lodge Zur neugekronten Hoffnung.
As a matter of fact, the Solomon's Seal used by Mozart in his own masonic signatures is usually alchemically interpreted (being a combination of the symbols of fire and water) as the symbol of transmutation, that's to say metamorphosis...

6. Mozart and another family of Freemasons: the Webers
Another interesting consideration may be the fact that Franz Anton Weber, the uncle of Aloysia and Constanze, the two Mannheim girls Mozart fell in love with, was also a freemason...
On 8 January 1787 Mozart left another cryptic (alchemic? possibly fire+oil?) signature on the Album of his cousin-in-law Edmund Weber, pupil of Haydn and step-brother of the great composer Carl Maria von Weber...

7. Mozart, Schikaneder and the Vienna eating lodges
According to Treitschke's memoirs, Schikaneder and probably Mozart, as his friend, were attached to a Vienna (unofficial) masonic group derived from Mozart's central lodge Zur neugekronten Hoffnung (information from the masonic brother of Mozart Gieseke from the same lodge), known as «peripheral or eating lodge, where the brethren busied themselves at the weekly evening meetings with games, music and the many pleasures of a well-covered table». Within this inner circle, Schikaneder and Mozart developed the project of the The Magic Flute from spring 1791, with a direct rival, von Dittersdorf's pupil Wenzel Müller and his The Magic Zither derived from the same fairy tale by Wieland as The Magic Flute. Müller's The Magic Zither premiered in Leopoldstadt Theatre (June 1791) just a few months before The Magic Flute and that caused many headaches to Schikaneder...
After all and behind that extra-serious esoteric appearance, also the Vienna Freemasonry lodges evidently had some decadent aspects...

Mozart and Vienna cultural circles: from von Gemmingen to van Swieten and von Lichnowsky
In conclusion, it is thanks to a network of freemasons that Mozart actually managed to develop his activity in Vienna within its cultural circles. Through von Gemmingen he reached van Swieten and through the two Freemasonry friends Mozart could attend the most important soirées in Vienna. In particular we remember von Lichnowsky (linked, through marriage, to the von Thun family, a family who usually promoted important cultural soirées in Vienna), von Lichnowsky a freemason brother Mozart first befriended thanks to von Gemmingen at the very lodge Zur Wohltätigkeit (Beneficence) already in 1784.
von Lichnowsky will be the patron of Mozart until 1791 and then the patron of young Beethoven (until the Lobkowitz's period)... and also the man, who had Mozart condemned for debts a few weeks before Mozart's death in 1791... and who dismissed Beethoven as a lazy, nothing doing and nothing achieving, irresponsible artist...
van Swieten, a few years later, lamented the fact that Mozart remained de facto a sort of half-composer, because he totally failed to reach the greatness of Handel... (!?)
After a very serious bankruptcy, overwhelmed by debts (more than 200,000 fl.), von Gemmingen died in 1836, alone, forgotten and impoverished.

__________________________________________________
WORKS BY OTTO VON GEMMINGEN
__________________________________________________

A) Works:
• Sidney und Silly (?)
• Pygmalion by J.J. Rousseau (1778, translation)
• Richard III by W. Shakespeare (1778, translation)
• Duodrama Semiramis for Mozart's music (1778, lost)
• Various writings and various works for and about Mannheim Theatre (1778/1779)
• Die Erbschaft (1779)
• Der deutsche Hausvater (1779)
• Various works for Mannheim Theatre (1780)
• Allegro und Penseroso by J. Milton (1781, translation)
• Der Weltmann (1782)
• Richard II (1782)
• Die wöchentlichen Wahrheiten (1782/1783)
• Magazin für Wissenschaft und Kultur (1784)
• Wiener Ephemeriden (1785)